After leading the most advanced digital society in the world, Taavi Rõivas joins Lympo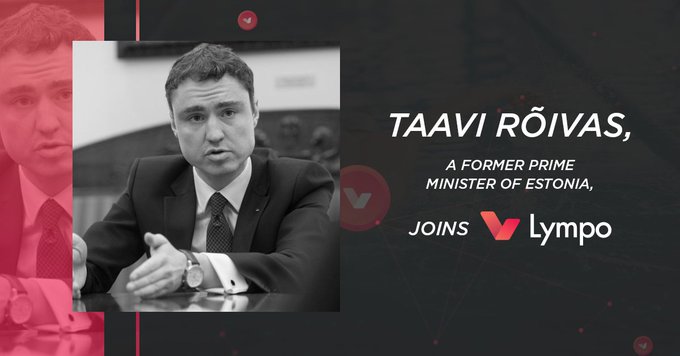 Taavi Rõivas, who served as Estonia's Prime Minister between 2014 and 2016 and is now a member of the Estonian parliament, played a pivotal role in establishing the country as one of the world's most digitally advanced societies.
"We are proud to announce that the former Prime Minister of Estonia, Taavi Rõivas, is joining Lympo as the new chairman of the company's Supervisory Board." says the Lympo team.
Excited to help one of the most promising Baltic startups to grow and pursue the mission of motivating people to excercise more and better.

If you are a runner like me and feel that being rewarded for your training would be motivating, check out @LympoApp ! https://t.co/XvIncXZs1E

— Taavi Rõivas (@TaaviRoivas) August 31, 2018
Using secure digital identities, Estonians can access medical records, and even register businesses online, from anywhere in the world.
"Lympo's mission is one that I can easily relate to," said Mr. Rõivas. "I ran my first marathon because of a challenge and have been a passionate runner ever since. I have seen many startups and know well that the key to success is to have a great team. Lympo's team is one of the most inspiring, and I am certain that Lympo has huge potential."
"We are thrilled to welcome Taavi Rõivas on board as the chairman of the Supervisory Board of Lympo," said Ada Jonuse, CEO and co-founder of Lympo. "His position as a figurehead in the political and tech world will help share Lympo's vision on how blockchain and data can help transform the fitness and healthy lifestyle industry."